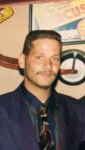 Steven J. Sliman of Columbia Station Ohio passed away suddenly Sept. 5th 2020. He is survived by his Father George Sliman of Brunswick, his siblings David and Debbie Sliman, Ronald Sliman of Middleburgh Heights, Dennis and Denise Mizner of Columbia Station, grand-daughter Liana K. Burke of North Ridgeville. (Secondary family Micky Burke, Betsy Burke and Angie DeCaprio). Nieces and nephews are Kayla Mizner and Chase Pettrella, David and Nicole Core, Karly DeCaprio, Louis and Colton Mizner.
He is preceded in death by his Mother Geraldine Mizner, step-Father Louis Mizner, adopted Father Terry Burke and his beloved son Stevie John Burke.
Steve touched the hearts and lives of many people, he loved to make people laugh and was a great entertainer. He will be dearly missed, his favorite pass-time included spending time with his grand-daughter and many friends, He enjoyed camping, Nascar, and listening to his favorite band Motley Crue. He would always lend a helping hand to anyone in need.
Share This Life, Choose Your Platform!