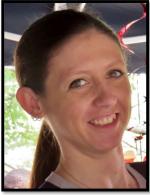 Jessie Lynn Wentz, age 43, passed away February 28, 2021 after a heroic 3-year battle with metastatic melanoma. She leaves behind her loving husband, Jason Keenan, her 6 amazing children, who made up the entirety of her world, Hailey (19), Joshua (17), Kadin (14), Travis (13), Dylan (7), and Ryder (4), and stepdaughters, Maura (8) and Lilith (5).
Jessie was a 1996 graduate of St. Joseph Academy and attended Kent State University. She worked in Early Childhood Education & Care while earning her Patient Care Assistant (PCA) license through the Cleveland Clinic, caring for cardiac patients. She continued to work tirelessly in this capacity even as she courageously battled cancer. Through this fight, she taught us that life's seemingly small moments are not really small at all and leaves behind a legacy of love and beauty and kindness.
Besides her husband and children, Jessie is survived by her parents, Mark Wentz (Geriann, deceased) (Kimberly) and Teresita DeCrane (Thomas, deceased), her brother Michael Wentz (Christina), stepbrother Joseph DeCrane, half-sister Lauren Mathot (Brian), half-brothers Steven Wentz (Megan), Evan Wentz (Amanda) and Thomas DeCrane (Jessica), her in-laws, Tom and Josie Kennan, her former partner, Travis Frick, and other family and friends.
Arrangements by Malloy & Esposito Cremation Services
Share This Life, Choose Your Platform!