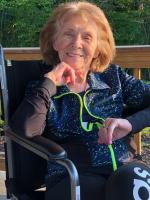 On Monday, January 4, 2021, Eileen E. Wereb (nee Keogh), loving wife, sister, aunt, mother, grandmother of 19 and great-grandmother of 17, passed away at the age of 83 due to Alzheimer's Disease.
Eileen was born on August 9, 1937 in Arklow, County Wicklow, Ireland to Joseph and Mary (nee Byrne) Keogh. She immigrated to the United States in 1956; married Joseph Tako on January 4, 1958 and they raised six children in Valley City, Ohio. On May 21, 1988, she married the love of her life and her best friend, Roy Wereb and resided in Middleburg Heights, Ohio.
Eileen's passions were always her family, dancing, traveling, playing canasta, golfing, bowling and bingo. She loved giving advice to anyone who was troubled and said a prayer each night for her husband and herself, all of their children and their mates, their grand-children and their mates, all of their great-grandchildren, all of their relatives and friends and for all the people in the world that have no one to pray for them. She was amazingly insightful and had the patience of a saint.
Eileen was proceeded in death by her parents, her brothers Charles, Denis, Donald, John, Joseph, Kevin, Leo, Noel, Pascal and Thomas; her sisters Cora Kettle, Kathleen Foley, Lillie Maguire, Muriel Bradshaw and Sheila Knighten. She is survived by her loving and devoted husband of 32 years, Roy Wereb, sister Patricia Merrigan, sisters-in-law Elma (John) Keogh, Tess (Kevin) Keogh, Bridie (Denis) Keogh, Nancy (Donald) Keogh, her six children, Joseph (Darlene) Tako, Victoria (Steven) Kemper, Denise (Douglas) Kronenberger, Patricia (Michael) Earhart, Susan (Jeffrey) Carpenter, Stephen Tako (Marzena), and many grandchildren, great-grandchildren, nieces and nephews.
To commemorate Eileen's life, a private family gathering will be held at a later date. Interment will be in the Garden of Angels Columbarium at the Woodvale Cemetery in Middleburg Heights. In lieu of flowers, please consider making a donation in Eileen's name to All Caring Hospice, Independence, Ohio https://allcaringhospice.com/cleveland-oh/
Irish blessings
May the road rise to meet you, and the wind always be at your back. May the sun shine warm on your face and the rains fall softly on your fields. And until we meet again, may God hold you gently in the palm of his hand.
"That Puts Me Out" – the Canasta Queen
Share This Life, Choose Your Platform!