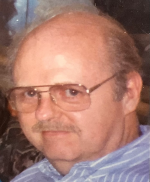 John "Andy" Wetherill 76 was born in Lima, Ohio on Sept 3rd, 1945 to Auda and Justus "Jack" Wetherill, both deceased. He is survived by his wife Donna (nee Licht), step daughters Oona and Greta Mooney, from Cleveland, Ohio, daughters Amy Word (Paul) and Julie Troedsson (Peter), and grandchildren Jeremy Baker, Logan Flues and Sydney Word, from Oregon.
John graduated from Lima Senior "63, served in the Airforce in Ohio, England, Dominican Republic and Alaska He was married to first wife, Wanda and moved to Astoria, Oregon where he was an on-air personality at KVAS Astoria, ran a laundromat and was a school recruiter. After divorce, he moved back to Ohio.
He excelled in sales of electronics and furniture. Donna became his wife in October 1988 and thus, he became a step-dad to Oona and Greta, Known as Andy to most, he was a thoughtful, kind and loving man who valued his friends and loved ones. A favorite past time was keeping in touch and up to date on their lives.
Contracting Covid in Oct. 2021 exacerbated heart and bone issues leading to a lengthy stay in a nursing home in Parma, Ohio where he passed away quietly in the afternoon of April 28, 2022.
Please share your memories of Andy with his family at: sept49@hotmail.com The family will hold a memorial at a later date. Make it known at that same email address if you'd like to be notified.
Share This Life, Choose Your Platform!