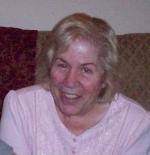 We are sad to announce the passing of JoAnn Wielkiewicz (née Badnoroski) of North Olmsted. She died at age 77 on July 16, 2022. JoAnn passed away surrounded by her loved ones after a battle with cancer. JoAnn was preceded in death by her husband, Walter Wielkiewicz, her parents John and Elizabeth Badnoroski, her brother Johnny Badnoroski, granddaughter Elizabeth Wielkiewicz and grandson Michael Wielkiewicz. She is survived her five children Walter Wielkiewicz (Hilda), Keith Wielkiewicz, Leslie Ziegler (Jon), Jennifer Good, Janet Wielkiewicz, her grandchildren Melissa and Walter III Wielkiewicz, Kristina Taylor (Randy) and Adam and Emily Ziegler and great grandchildren Randall and Olivia Taylor. JoAnn also leaves behind one sister, Dolores Hollo.
JoAnn was born and raised in Cleveland, Ohio. Shortly after marrying Walter, she moved to Lakewood, Ohio to raise their five children. When she was well, JoAnn loved to visit with family, garden and decorate her home. JoAnn also had a passion for dogs and had many throughout her lifetime. She will be greatly missed by her family and friends.
The funeral will be a private ceremony with only close family members present.
Share This Life, Choose Your Platform!