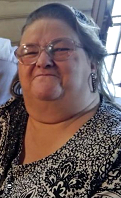 Although Dremae Susie Zimmer passed away on the 12th of October, her soul will continue living on through her family and friends. Susie was a caring and lovable woman who, throughout her lifetime, devoted herself to her faith and the people around her. Born in 1968 to a large family in Cleveland, she had a childlike innocence about her. She would always seem to look at the brighter things in life and never said a bad word about anyone. She remained a faithful Christian for her entire life, and
made a family out of her church group. She married Alfred Zimmer in 1996.
Preceded in death by her parents Kyle and Katherine Hale. Brother Herman Hale. Survived by Husband Alfred Zimmer and her dog Scooby. Brothers and Sister, Basil (Betty) Ghee, James (Donna) Hale, Robert (Vicki) Hale, Robin (Bob) Hale-Saunders. Many nieces, nephews, aunts, uncles and cousins that she adored.
We know that God is pleased to have one of His kind and generous angels back in his arms, where she belongs. She will be sorely missed by those on earth.
Celebration of life Friday, Oct 21st, 7:00 to 9:00 pm. Celebration of life Saturday, Oct 22nd, 10:00 to 11:00. Memorial service, Saturday Oct 22nd,11:00 to 12:00.
Celebration of life and Memorial Services will be held at Aspinwall Church of God at 14627 Aspinwall Ave, Cleveland, OH 44110
She will be laid to rest with her parents in West Virginia.
Share This Life, Choose Your Platform!