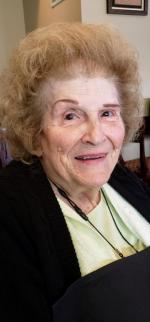 "What we have once enjoyed we can never lose; all that we deeply love becomes a part of us." – Helen Keller
Craig, Lorna B.
(Nee: Nemetz)
1926 – 2022
Lorna Bernadette Craig, age 96, passed away with her family by her side, on September 29, 2022, at her home in Brook Park Ohio.
Lorna was born in Cleveland, Ohio to John G. and Marie Nemetz [nee Salobecke] on July 11, 1926. She will be lovingly remembered by her three children, three grandchildren, their spouses and numerous extended family members and friends. Family was everything to Lorna, and when she wasn't spending time with her children or grandchildren you could find her watching her Day-Time Soap Operas, or in the kitchen cooking up one of her famous dishes or dashing off to a casino to find a slot-machine that never seemed to pay off. And, who can forget the countless weekends and holidays over the decades the family and friends that would travel to her house to play poker, laugh, eat, and live life to the moment.
Lorna is preceded in death by her husband, Albert E. Craig of 46 years; father, John G. Nemetz; mother, Marie Nemetz (nee Salobecke): siblings, Robert E. Nemetz (Lillian "deceased"), John J. Nemetz (Anne "deceased"), Dorthy M. Nemetz.
Lorna is survived by her children, Michael Craig (Mindell), Darla Holt (Raymond), and Sandra Livock-Craig; grandchildren, Michael Craig (Sean), James Craig (Gus), and George Craig; as well as numerous relatives and friends.
As per Lorna's request, there will be no funeral services nor reception, but ask those to take a moment to remember how she has touched your life in your own way, may that be taking a moment of silence, or making her famous spaghetti sauce, stuffed cabbage, nut roll, or even taking a trip to the casino. As, Lorna's physical body may not be present, but her spirit will live on in our hearts, minds, and actions for years to come.
"Like sands through the hourglass, so are the days of our lives"
Share This Life, Choose Your Platform!