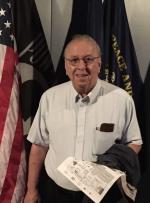 Bernard Thomas Ferris born May 28, 1939, passed away peacefully at
his home in Cleveland, OH on Sunday, August 7, 2022. Bernie was the
youngest child of Haman and Anna Ferris (nee Rosepiler) and was
preceded in death by his brother Norman and sister Rita Bielozer. He is
survived by his companion and love of 17 years, Maria Rivera, his sister
Theresa Kassay and his son Scott, his wife Teri and their children Ryan
and Madison. He was Papa to José, Luz(José), Zulma, Javier(Fatima),
Arlene(Joseph) and Carlos and extended family. He was married to
Jaqueline Ferris (nee Rauscher) for fifty years. Bernie was a beloved
(favorite) uncle to his many nieces and nephews.
In 2008, Bernie retired from the Cleveland Police Department after
serving the public as a patrolman and detective for 44 years. In 1969, he
was a founding member of the Cleveland's Policeman Patrolmen
Association.
Papa loved to fish, tell tall tales of serving in World War II (check the
dates) and to take his Boston Terrier, Luna (his other love) for her daily
walks.
A celebration of Bernie's life will be held at the Brooklyn Acres
clubhouse located at 6301 Woburn, Cleveland, OH on Friday, August
12th from 11:30 to 1:30 with burial at Holy Cross Cemetery at 2:30.
In lieu of flowers, the family requests that donations be made to St.
Jude's Children Hospital (www.stjude.org), an organization which
Bernie was a long-time supporter or Hospice of the Western Reserve
(www.hospicewr.org)
Share This Life, Choose Your Platform!