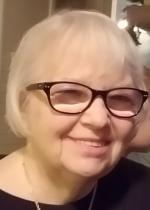 Anita Louise Gray, age 73, passed away peacefully in her home April 10, 2020 due to natural causes (or the thought of not seeing the Cleveland Indians play this year…Thanks Corona).
Anita was most known for her tenacity, lack of patience and providing her opinion whether or not it was asked. She always told you the truth even if it wasn't what you wanted to hear. But her passion and love for her family and friends knew no bounds and taught strength and resilience to all those who knew her.
She will be sorely missed and is survived by her brother Tom (Barb) Gray, her daughter Vickie (Brad) Burgess; son John (Allyson) Ferrara; three grandsons, Brody, Grant and Oliver; and many cherished friends, all of whom she loved and touched deeply.
She was preceded in death by her love, Victor Ferrara and parents, Russell and Theresa Gray.
She was most happy fishing, taking pictures, playing Scrabble or Wii Bowling and spending time with her grandsons who she adored.
In lieu of flowers, donations may be made to the American Diabetes Association at https://www.diabetes.org/donate/donate-in-honor.
A "Celebration of Life" service will be held at a future date.
Share This Life, Choose Your Platform!