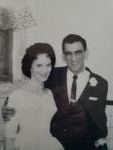 Eileen Marie Lialios age 78 of Cleveland, peacefully passed at her home on November 3, 2019, surrounded by her family. She is survived by her wonderful children: Ethel, Sheila (Harold), Lesa, and Christopher. She also leaves behind her grandchildren: William, Harold, Ingrid (Chris), Erik (Lacy), Brandon, Bethany (Bea), Christina (Carl), and Christopher (Brasta). She is also survived by her nine great-grandchildren and two great-great-grandchildren. She leaves behind her beloved sister Mary Kinsey as well. She was preceded in death by her father Lando and mother Bessie Henderson. She was also preceded in death by her life long husband and love of her life Peter Lialios. Her daughter Elsie. Her sisters: Virginia, Mable, and Patty, and her brother John Henderson. She will be deeply missed by both family and friends.
Eileen Marie Lialios was born in Grafton, West Virginia on March 6, 1941. She was the daughter of Lando and Bessie Henderson. She spent her youth in the mountains of West Virginia. She married the love of her life, Peter Lialios, in 1961 in Cleveland Ohio. Here she spent her time working in the family-owned restaurants with her husband and caring for her children at home She was a beloved mother of four daughters Ethel, Sheila, Elsie, Lesa, and one son Christopher. She was a wonderful grandmother to William, Harold, Ingrid, Erik, Christina, Brandon, Bethany, and Christopher. She also was a loving great grandmother to nine precious children and Great Great Grandmother of two. Eileen was dearly loved by family, friends and all who knew her. Eileen spent her time as a Rainbow Mom and was an esteemed member of Eastern Stars attaining the office of Ester. She was one of the sweetest and caring people you would have ever met!
You are welcome to join the family at the Brooklyn Heights Cemetery (inside the mausoleum) on Saturday, Nov 9, 2019, at 11:00 AM.
Share This Life, Choose Your Platform!