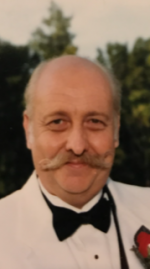 James "Jimmy" Paul Petho age 73, of Cleveland, Ohio passed away peacefully in his sleep at home on June 12, 2020 after being under the care of Hospice of Cleveland Clinic.
He is survived by his wife of 48 years, Judy (Morgan) and his four daughters, Edith (Brian Baracz), Arlene (Matt Marek), Cynthia (Greg Kwan), and Jennifer (Shawn Rimmer).
Jim had eight grandchildren, Shawn, Kevin, Alex, Allison, Andrew (deceased), Madison, Donny, and Cameron. He had two great grandchildren, Jasmine and Lilly.
He was born October 22, 1946 to the late Albert and Clara (Rossman) and lived in Cleveland all of his life.
Jim joined the U.S. Marine Corp in 1966 and served in Vietnam for 13 months. He belonged to American Legion Post 0258 in Springfield, LA.
He will be interred at Ohio Western Reserve National Cemetery with military funeral honors on July 28th. Unfortunately because of Covid-19, the service is limited to family.
Share This Life, Choose Your Platform!