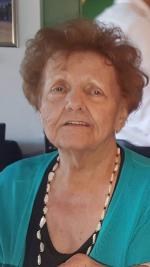 Rev Christine (Tina) M.Wakeley, born July 28th, 1926, passed away at the age of 96 on August 6th, 2022. Beloved wife of the late Fred, who passed away in 2020. Loving mother of John (Rita), Mary (Ken), Eddie, Gus – deceased, Timmy – deceased, and Cindy (Lou – deceased). Cherished by her 13 grandchildren, and many great (and great-great) grandchildren.
Christine's parents (Gus and Mary Allen) developed the church, God is Love Tabernacle, which Christine became the natural successor of. Although the location of the church moved several times, her dedication to serving the Lord never faltered. Through her work in the ministry, and eventual development of the Crossroads Christian Academy school, Tina has impacted the lives of many in such a positive way.
Grandma Tina- you are so very loved, by so many. May you and Grandpa be reunited in Heaven, singing together once again. "Always a smile, instead of a frown, always a hand, when one is down. Always true, thoughtful and kind, wonderful memories she left behind"
A Celebration of Life service will be held on Saturday August 13th, 2022 at 2pm at Church Alive 4840 State Rd. Cleveland, Oh. 44109. All are welcome to come share memories honoring Christine and Fred Wakeley.
Share This Life, Choose Your Platform!