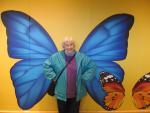 Jean B. Weaver (nee Bachman), age 84, of Lakewood OH, died peacefully at home on May 16, 2021. Surviving her is her daughter, Victoria L. Weaver of Rocky River OH. Preceded in death by her parents C. Robert and Margaret Bachman of Lakewood.
Jean graduated from Lakewood High School and attended Ohio University. A loving mother, she spent many of her daughter's young life by her side as a stay at home mom. She returned to the work force at Cardinal Federal Savings Bank rising from pool secretary to executive secretary and ultimately to their Human Resources Administrator for the State of Ohio. After Cardinal closed, she spent the balance of her working career at Ursuline College in the Alumni Department.
Jean had many passions which were reflected in her museum memberships at all the Wade Oval institutions. Parade the Circle and Chalk festival were joys for her. Strolls through the zoo, the Metroparks – she treasured them all. Music played a big part in her life as well – orchestra, opera, ballet. She was a 50 year choir member at Rocky River United Methodist Church.
A memorial service will be held at Rocky River United Methodist Church, 19414 Detroit Road, Rocky River, Ohio 44116, on June 26, 2021 at 10:30am. Donations can be made in her memory to Rocky River United Methodist Church (memo: organ fund) or to Hospice of the Western Reserve.
Share This Life, Choose Your Platform!